1






Abortion, the Devil & the Church
Posted by James P. McGarvey , 13 January 2013 · 1345 views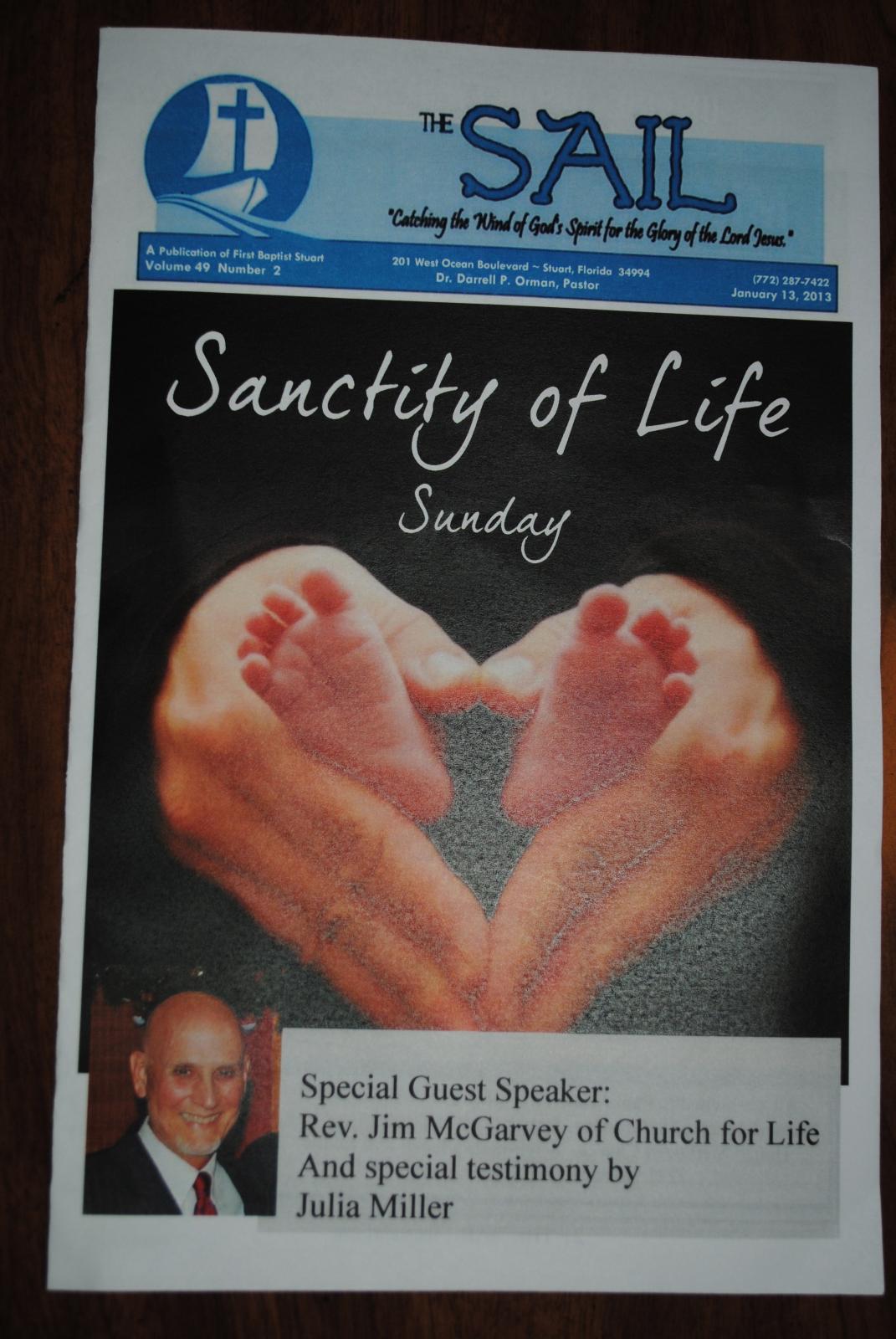 I gave the morning message at First Baptist Church of Stuart (FL) this morning at their annual Sanctity of Human Life Sunday. Dr. Darrel Orman, Senior Pastor, has a heart for the unborn and the plight of the post-abortive.
I spoke on "Abortion, the Devil & the Church - Exposing the Spiritual Forces Behind Abortion," and witnessed First Baptist's support of the ministry of CareNet Pregnancy Services of the Treasure Coast that operates two pregnancy resource centers in the area as well as an abortion recovery ministry.
Abortion has Satan's fingerprints all over it. Jesus said as much in John 8:44, when he identified the devil as a "murderer," a "liar and father of lies." He is unmistakably the Architect of Abortion.
With the deaths of 55 million pre-born children in America over the last forty years, the devil has proved to be very successful in carrying out his agenda, which Jesus identified in John 10:10, "The thief comes only to steal and kill and destroy." It should be apparent that abortion is a Satanic enterprise.
If abortion is first and foremost a diabolical plot, then the church is the only organism (institution) spiritually equipped to engage the spiritual forces behind abortion. It must, therefore, step up and take the lead in the effort to end abortion.
My message to First Baptist acknowledged that abortion is a complex issue for those facing an unplanned or crisis pregnancy, and demands a practical and compassionate response by the church. There is a way to resolve the guilt, shame and hurt that abortion will bring to the human experience, for
there is forgiveness, healing and restoration for the post-abortive in Jesus Christ.
Ultimately, the gospel of Jesus Christ is the solution to Americaís abortion crisis. Innocent blood has polluted the land and profaned the name of the Lord, but there is a greater blood shed at Mount Calvary that can transform the heart of a mother so she will choose life for her child,
can cleanse the guilty, forgive, heal and restore those involved in abortion.
What America needs to hear is Godís truth about abortion wrapped in the grace of the Lord Jesus Christ. That's what I had the privilege to share with First Baptist Church of Stuart this morning.