1






The Spirit of the Lord is upon me....
Posted by John Dix , 10 February 2016 · 2174 views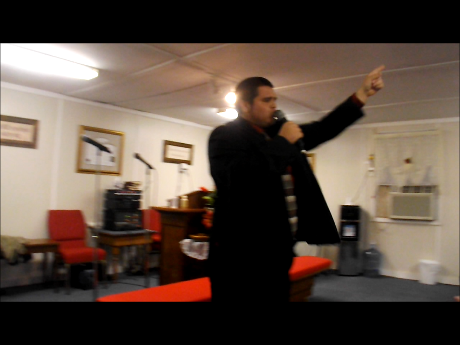 I am John Dix Jr. and I was named after my dad. I come from a Cherokee and a White background. I am from Lumpkin County, Georgia. The household I was raised in for the most part of my childhood years was Godly then went down hill. I was raised in the Holiness Pentecostal Christian background for the most part of my childhood. I went to church on Sundays, Wednesdays and also revivals. I heard the preaching, the singing and so on. My parents gave their life to Jesus Christ but just because they raised me in the Holiness Pentecostal Christian background doesn't mean that's what and who I was. What and who was I actually? I was a sinner bound for Hell but Jesus Christ had my number.
One Sunday an evangelist came to our church. I was a baby at the time and he was preaching. During the service the Gift of Knowledge came out of him and he said, ''I want all the Johns to come forth to the front.'' Well, my dad's name is John and so is mine. I was carried up to the front of the church and my dad was at the front as well. The Gift of Prophecy came forth out of the evangelist's mouth through the Holy Spirit and he said to my dad, ''You will be walking under the anointing of God but your son will be walking under the full anointing of God!'' This is the story my parents told me as I remember. I was emotional when I heard the story. I really never understood what I was going to be doing under the anointing or what the anointing was for, but what I did know is that it was of God.
At the age of 15 years old I gave my life to Jesus Christ in my home church. Oh, I can't remember what month, I can't remember the day but I sure do remember the born again experience. I was shaking under the conviction power of the Holy Spirit, I was weeping uncontrollably and I was grasping onto the pew. I was led to the altar by my parents and I fell on my knees crying out to God to forgive me of my sins, to come into my heart and that I repent of my sins. I stood straightway up and I felt God's presence literally come into my heart. I was later baptized in the name of Jesus Christ for the forgiveness of sins. Life was changed forever for me. Nothing would be the same.
I was still attending church but it was for a short time. I don't know if the church was falling apart or not during this time. My family started to go down hill. I was a babe in Christ. Satan came at me full force, I was tempted with sin in a greater way and I gave in to sin. God's conviction was upon me. I attended Lumpkin County Middle School and Lumpkin County High School. I was a victim when it came to bullying, I was in open sin, I got into some fights, some I would walk away from but through everything God was there. During my days in High School God used a couple teachers to guide me with words such as ''What would Jesus do?'' or ''Turn the other cheek.'' One teacher by the name of Mrs. Fowler had a great impact on me in Middle School. She really knew God had a plan for me. I remember towards the end of the year of Middle School she read a book and after she read the book she poured out her heart to me in tears and I remember being choked up in tears while she was pouring out her heart to me. I went to High School and dropped out in 9th grade due to bullying. I went to Mountain Education Center and dropped out as well because I wasn't getting anywhere.
After dropping out of both schools all I was thinking about was females, the Cherokee culture, the Cherokee language; I was rebellious, I was thinking how tormented I was in my hometown and how I wanted to move far away... like to Oklahoma or to North Carolina. I made a connection with a Cherokee elder out in the Cherokee Nation, Tahlequah, Oklahoma. I was 16 years old at the time. The elder left from Oklahoma to pick me up. I was thinking that I was going to Tahlequah, Oklahoma to learn more of the language and culture. We finally arrived in Oklahoma. I met a lot of people and supposedly found 'friends' that I could fit in with. Well, I got into smoking weed, smoking cigarettes, drinking from the can and was focused on all the females. Later the elder told me that I had to go to church and because of being far from God I was scared to go. I knew God was watching everything I did. I finally went and got it over with. I stayed in Tahlequah, Oklahoma for about four weeks and was taken back to Georgia.
A month or two later the elder came with his nephew to pick me up. We went to Cherokee, North Carolina. We went to our hotel in Cherokee, North Carolina. We stayed across from the Harris Cherokee Casino. We were there to attend the Cherokee Language Program at Western Carolina University. It was where the Cherokee Nation and Eastern Band Cherokees came together to translate new English words into Cherokee. While there in Cherokee, the elder, his nephew and I went to Talking Leaves Store just to kill some time. We were walking towards the store and this stranger looked at me as he was walking by into KFC. We went into the store and I was standing beside the elder's nephew looking at some items. The stranger came in and said to me, ''God wanted me to tell you that HE LOVES YOU!'' and the stranger also said to the elder's nephew that GOD LOVED HIM TOO! I responded back with an ''Okay'' or ''Thanks.'' Around this time, I was pondering the words of that stranger... Later we went to the Kituwah Celebration nearby and after the Kituwah Celebration I was driven back home and they went back to Oklahoma.
Two nights after I was driven back home by the elder along with his nephew, I was attacked three times in a row while I was sleeping in my bed. A demon attacked me, it seemed that it was molesting me, I was paralyzed and I couldn't utter a word. I finally had the strength to call out my cousin's name with a whisper right when the demon let go of me. My cousin was staying with my brother and I at my parents' house that night. He heard me calling his name and he came into my room. I told him and my brother what happened. I tried to get them to tell my parents what happened but they wouldn't tell them so I had enough courage to tell my parents that night after waking them up. My dad and mom came into my room. My dad told me to throw everything I got from Oklahoma and North Carolina out the window and to command the demon to leave. I threw whatever I had been given out the window but I had no courage or power to tell the demon to leave. I was choked up on my tears. It left after it attacked me anyhow.
My family began to go down hill. Hatred was building up in my family, my dad had a deathly sickness that he was not aware of at the time and so much things were going on. I eventually contacted the elder to pick me up because I was wanting to move to Oklahoma. I was 17 years old then. I was going to start my own business when it came to the use of the Cherokee language. I told my mother about me moving out to Oklahoma while we were in the car and she was all for it but a voice deep within me said something like, ''You are going to come right back here to your hometown.'' I told my mother what was going to happen and she tried to encourage me. I knew I was going to come back from Oklahoma because God's calling, His anointing was upon my life and I could not run from it.
Time came that I left with the elder to Oklahoma. I had 1,400 dollars on me at that time. I finally arrived in Oklahoma and was like, ''I finally made it!!!'' Little did I know I would go back to Georgia two or three days later with about 200 dollars left on me. I was miserable. I was shortly hired on at a garbage business. I was making around 3 dollars an hour. I had to pay on my vehicle, gas, etc... I didn't have much money left because around that time I was going to powwows as well. I felt as if that could fill the void in my heart. I met a young Apache man in my hometown who went on the powwow trail. I traveled with him for a short time. Of course I had a hand drum and of course I had the voice to sing northern. I couldn't fill the void with that either. Things weren't well with my family that much. My dad almost died, my parents were arguing a lot and hatred was building on the inside of me to where I didn't care for nobody. One day an argument went down and I called the cops on a loved one as I was going to a powwow. The loved one was arrested and was took to jail. That caused more anger and hatred in my family. I was so horrible. Shortly I packed all my belongings, left my job and was driven to Cherokee, North Carolina. I was staying behind the Harris Cherokee Casino with a few young Cherokees who were druggies, alcoholics and at least one of them were anti-Christ. I joined them and got drunk thinking I could drink all the pain away. I found out that I couldn't find the answer in the bottle. I lost a lot of belongings while I was there. I later had a talk with the Chief's dad about the situation I was in. I was given a heart to heart talk by him. I had two young men to help me out with food and drink during my stay there. While I was there I walked down the strip alone as it was sprinkling rain and being teary eyed, heartbroken, hurt, in pain, said to God, ''God I want your plan.''
I was picked up from Cherokee, North Carolina and driven back to Georgia. My loved one got out of jail and the loved one knew I called the cops and had a grudge on me for a while. I was able to keep my job. I was still going through a hard time. I was attacked by a demon once again at my parents' house and I saw what the demon looked like. I screamed Jesus in my mind because the demon had my lips shut. Finally the demon left when I screamed the name Jesus in my mind! I still had anger in my heart and hatred. My Great Aunt, who is an evangelist came over to my parents' house and prayed for us as we all held hands. I remember when she was praying I felt the Holy Spirit come upon me and I was teary eyed. Around that time, unfortunately, I wanted to think there was another way but I have to say boldly that Jesus Christ is the ONLY WAY!
I slowly began to come closer to God and I knew God was drawing me in towards Him and all Hell was coming against me. I can't remember if I was attending another church at that time or not. To cut short on the story, I was growing so fast it seemed in God and I was still working my job like usual. Revival was coming up in November! I told my brother he was going to get saved and he denied saying that he was not going to get saved! Finally, the day came during revival when my family was there. My dad went up front during prayer and asked the same evangelist that prophesied over us to pray over him. So the evangelist prayed and my dad fell under the power of the Holy Spirit and was in tears. I was called up by the evangelist, fell under the power of the Holy Spirit, was filled with the Holy Spirit and all I can explain is that it felt like Living Water flowing through my whole being. My mom fell under the power of the Holy Spirit. My brother gave his life to Jesus Christ and was knocked under the power of the Holy Spirit! The crazy thing was that the song that was being played during the moving of the Holy Spirit was ''There's power in the Blood!'' and God showed me that the song ''There's power in the Blood'' would be played during service at revival before service started that day. I couldn't understand it but it was the operation of the Holy Spirit!
A night or two down the line I had a vision of preaching the Gospel of Jesus Christ with anointing and authority to a crowd on the street. As I had this vision the presence of the Holy Spirit flowed through my body to where I could not control myself from shaking. All I can say is that it felt like Living Water! Nights passed and I started speaking in other tongues, having visions, having dreams, was being used in the Gift of Healing, was being used in the Gift of Miracles and Gift of Prophecy. I began preaching in the month of January and in the year of 2014. I think it was 2014. I never knew that I was going to be a preacher but God ordained me and separated me like He did the Prophet Jeremiah.
I'm still preaching, being used in the Gifts of the Holy Spirit and living the Gospel with all that I have with the help of the Holy Spirit. It hasn't been an easy road. There has been times where I failed God miserably, times where I sat down on God but you know, I stood back up because when the Holy Spirit comes on the inside of a Christian you best believe that the Holy Spirit won't let that Christian live like the world. I said to a brother in Christ today, ''Why did God show mercy like that to me? Out of all the things I have ever done?'' He replied, ''Because God is a good God.''
I'll leave y'all with this...
''For the gifts and calling of God are without repentance.'' -Romans 11:29
''The Spirit of the Lord is upon me, because he hath anointed me to preach the gospel to the poor; he hath sent me to heal the brokenhearted, to preach deliverance to the captives, and recovering of sight to the blind, to set at liberty them that are bruised, To preach the acceptable year of the Lord.'' -Gospel of Luke 4:18&19
Upcoming Churches Network likes this