1 Who were the other Sheep? John 10:16
Posted by Tkulp , 17 February 2022 · 0 views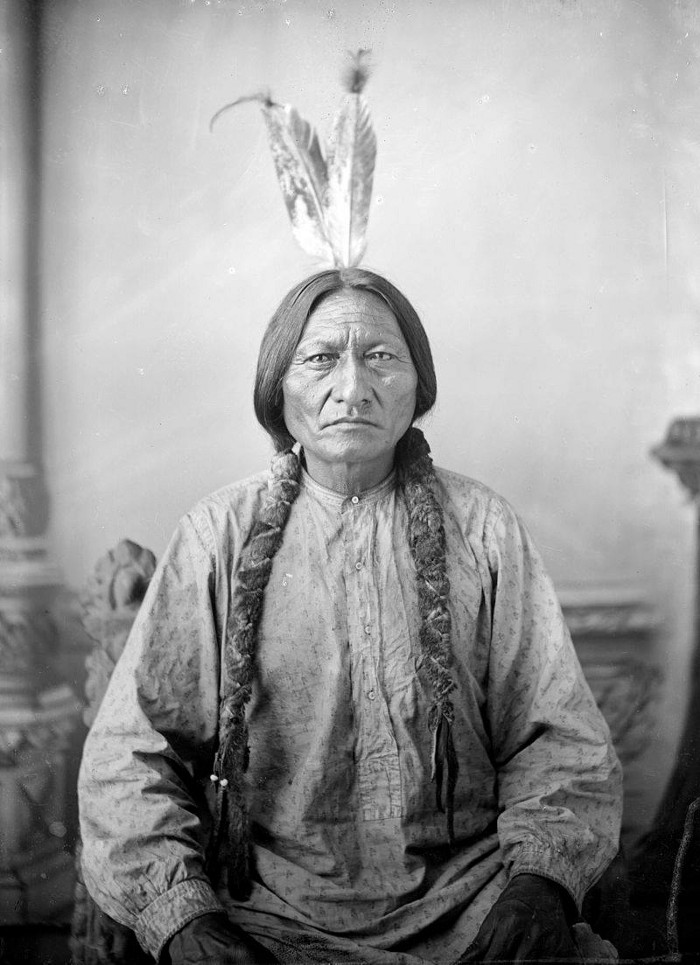 A quote from Sitting Bull
"Inside of me there are two dogs. One is mean and evil and the other is good and they fight each other all the time. When asked which one wins I answer, the one I feed the most."
- Sitting Bull
https://historicalsn...e-sitting-bull/
http://www.nativeame...1/feedwich.html
What does the Bible say on this same subject??
Depart from evil, and do good; and dwell for evermore. Psalm 37:27
Therefore to him that knoweth to do good, and doeth it not, to him it is sin. James 4:17
Let not sin therefore reign in your mortal body, that ye should obey it in the lusts thereof. Neither yield ye your members as instruments of unrighteousness unto sin: but yield yourselves unto God, as those that are alive from the dead, and your members as instruments of righteousness unto God.
For sin shall not have dominion over you: for ye are not under the law, but under grace. What then? shall we sin, because we are not under the law, but under grace? God forbid.
Know ye not, that to whom ye yield yourselves servants to obey, his servants ye are to whom ye obey; whether of sin unto death, or of obedience unto righteousness?
But God be thanked, that ye were the servants of sin, but ye have obeyed from the heart that form of doctrine which was delivered you.
Being then made free from sin, ye became the servants of righteousness.
I speak after the manner of men because of the infirmity of your flesh: for as ye have yielded your members servants to uncleanness and to iniquity unto iniquity; even so now yield your members servants to righteousness unto holiness.
For when ye were the servants of sin, ye were free from righteousness. What fruit had ye then in those things whereof ye are now ashamed? for the end of those things is death.
But now being made free from sin, and become servants to God, ye have your fruit unto holiness, and the end everlasting life. For the wages of sin is death; but the gift of God is eternal life through Jesus Christ our Lord.
Romans 6:12-23
For the one who wants to love life and see good days must keep his tongue from evil and his lips from uttering deceit. And he must turn away from evil and do good; he must seek peace and pursue it. For the eyes of the Lord are upon the righteous and his ears are open to their prayer. But the Lord's face is against those who do evil.
1 Peter 3:10-12
Come, you children, listen to me; I will teach you to fear the LORD [with awe-inspired reverence and worship Him with obedience]. Who is the man who desires life And loves many days, that he may see good? Keep your tongue from evil And your lips from speaking deceit. Turn away from evil and do good; Seek peace and pursue it. The eyes of the LORD are toward the righteous [those with moral courage and spiritual integrity] And His ears are open to their cry. The face of the LORD is against those who do evil, To cut off the memory of them from the earth. [1Pe. 3:10-12]
Psalms 34:11-16
For he that soweth to his flesh shall of the flesh reap corruption; but he that soweth to the Spirit shall of the Spirit reap life everlasting. And let us not be weary in well doing: for in due season we shall reap, if we faint not. As we have therefore opportunity, let us do good unto all men, especially unto them who are of the household of faith.
Galatians 6:8-10
Who were the other Sheep? Where did Jesus go to share the victory over sin, by the power of obedience to His Spirit? Was it to the American Indians?
I am the good shepherd, and know my sheep, and am known of mine. As the Father knoweth me, even so know I the Father: and I lay down my life for the sheep. And other sheep I have, which are not of this fold: them also I must bring, and they shall hear my voice; and there shall be one fold, and one shepherd.
John 10:14-16
But the tongue can no man tame; it is an unruly evil, full of deadly poison. Therewith bless we God, even the Father; and therewith curse we men, which are made after the similitude of God. Out of the same mouth proceedeth blessing and cursing. My brethren, these things ought not so to be. Doth a fountain send forth at the same place sweet water and bitter? Can the fig tree, my brethren, bear olive berries? either a vine, figs? so can no fountain both yield salt water and fresh. Who is a wise man and endued with knowledge among you? let him shew out of a good conversation his works with meekness of wisdom. But if ye have bitter envying and strife in your hearts, glory not, and lie not against the truth. This wisdom descendeth not from above, but is earthly, sensual, devilish. For where envying and strife is, there is confusion and every evil work. But the wisdom that is from above is first pure, then peaceable, gentle, and easy to be intreated, full of mercy and good fruits, without partiality, and without hypocrisy. And the fruit of righteousness is sown in peace of them that make peace.
James 3:8-18
I am the true vine, and my Father is the husbandman. Every branch in me that beareth not fruit he taketh away: and every branch that beareth fruit, he purgeth it, that it may bring forth more fruit. Now ye are clean through the word which I have spoken unto you. Abide in me, and I in you. As the branch cannot bear fruit of itself, except it abide in the vine; no more can ye, except ye abide in me. I am the vine, ye are the branches: He that abideth in me, and I in him, the same bringeth forth much fruit: for without me ye can do nothing {Obedience to the Spirit of Jesus within our mortal bodies.}. If a man abide not in me, he is cast forth as a branch, and is withered; and men gather them, and cast them into the fire, and they are burned. If ye abide in me, and my words abide in you, ye shall ask what ye will, and it shall be done unto you. Herein is my Father glorified, that ye bear much fruit {Obedience to Jesus' Spirit}; so shall ye be my disciples. As the Father hath loved me, so have I loved you: continue ye in my love. If ye keep my commandments{Obedience}, ye shall abide in my love; even as I have kept my Father's commandments {Obedience}, and abide in his love. These things have I spoken unto you, that my joy might remain in you, and that your joy might be full.
John 15:1-11