1






I feel a generation breaking through despair
Posted by Amy Roedding , 04 November 2014 · 1793 views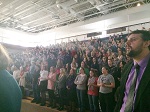 Since my new role at the National Office as the International Placement Director, I have had the privilege of visiting all of our Alliance Colleges. I myself am a graduate of Toccoa Falls College! However, on two different occasions I have been able to visit and meet with students interested in long term missions with the C&MA at Crown College.
While I was there for their Missions Fest, the Lord gave me a revelation as I stood in the gym during chapel. Many of the staff and faculty of the college were sitting in rows of chairs on the gym floor. They were facing the worship band who were also on the gym floor. I took my seat among them. As I looked behind me - I saw all the students packing out the bleachers that were right behind all the staff and professors. As I listened to them worship, I had this sense of the power of the next generation who are coming right behind my generation - ready to love the world for Christ.
Later we sang a worship song at my church ClayHouse that echoed the picture I saw of the next generation of believers there in the gym at Crown. The song is by Jesus Culture. Here is the title and lyrics.
He is Faithful
I have heard a sound coming on the wind
Changing hearts and mind, healing brokenness
I feel a generation breaking through despair
I hear a generation full of faith, declare

And our song it will be
Out of the darkness we will rise and sing

He is faithful, He is glorious
He is Jesus, all my hope is in Him
He is freedom, He is healing right now
He is hope and joy, love and peace and life

I have seen a light like the break of dawn
Giving blind men sight and letting lame men walk
I see a generation with resurrection life
We are a generation filled with the power of Christ

He has paid the highest price
He has proven His great love for us
We will praise Him with our lives
And proclaim our love for Him
________________________________________________
I know that there are also dark things that this generation is having to deal with that have marked their lives and have shut many of them up in addiction. I have met brave young women who are getting healing for the abuse they have suffered and who desire to serve God with their lives despite their pain. These issues are a reality that I see more and more as I listen to their journey story. But they sing "
Out of the darkness we will rise and sing!"
I am also encouraged in many ways by the desire I see in this generation to - out of their own woundedness - share Christ among the poor and marginalized. This year the one position that I had the most applications for was Guinea. For me, this represents this generation and their willingness to go to some very desperate places with the gospel.
I recently met a millenial Alliance missionary who was given the chance while on vacation to share the gospel in a park in Turkey. His friend who was also a millenial missionary in that particular country asked the vacationing guy to use his expertise in the language he spoke to give the gospel where many displaced Afghans were hanging out in the park that evening. The young missionary gave the gospel at least four times to groups of people who were standing all around him listening intently. As he told me the story I could sense the joy he had at this opportunity. In the country he ministers in he and his wife are not able to openly share Christ. I learned later that this young man gave up a full ride PhD to go overseas to serve with the C&MA.
I am thankful for the chances I get to interact with this next generation and to talk with them about where in the world they could serve Jesus with their lives. As the song states, I am encouraged as I see "a generation filled with the power of Christ!"
Gail Barr and Sarah Elizabeth Mabee like this