1






Forget About God's Will for Your Life
Posted by Amy Roedding , 02 November 2012 · 3094 views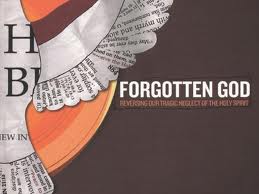 Our small group recently went through Francis Chan's study on the Holy Spirit. The name of his book is
Forgotten God
. It was at a time in my life when I was questioning where God had me. I was looking forward to when I would be doing something that I felt was more important. It was at that time that we read Chapter 6 in Chan's book- "Forget about God's Will for Your Life." I thought that was an unusual title! The introduction begins with a quote from A.W. Tozer that states,
And to expose our hearts to truth and consistently refuse or neglect the impulses it arouses is to stymie the motions of life within us and, if persisted in, to grieve the Holy Spirit into silence.
I still was not sure where Chan was going with this. As I read on, I did begin to sense the conviction of the Holy Spirit as I read the following:
I think a lot of us need to forget about God's will for my life. God cares more about our response to the Holy Spirit's leading today, in this moment, than about what we intend to do next year. In fact, the decisions we make next year will be profoundly affected by the degree to which we submit to the Spirit right now, in today's decisions (p.120).
Chan challenges readers not to ask "What is God's will for my life?" He believes that we should be seeking "the Spirit's leading in my life today." This chapter was pivotal for me at this time in my life. I needed to quit longing and looking for the time when I would know God's perfect will. I needed to realize that wherever I am, that is the place God has for me at that time. The more pressing issue then should be, am I looking for the Spirit's leading in my life today, instead of yearning for "God's perfect will."
I am not sure where you are today in your life, but you might be tempted to just concentrate on the day when you will be an International Worker. You might be tempted to see that future work more important than what God is asking you to do right now. But as Chan noted - the decisions we are making today will be affected by our submitting to the Spirit today. I pray that you will be encouraged to be all there where ever God has lead you and to surrender as Chan notes,
to the Spirit's leading with that friend, child, spouse, circumstance, or decision in our lives right now (p. 121).
Read about the book
http://www.forgottengod.com/
elizabethcog and tiffanyhema like this