2






Short-term Missions Trip: NYC for me!
Posted by Abraham Sandler , 11 April 2013 · 1862 views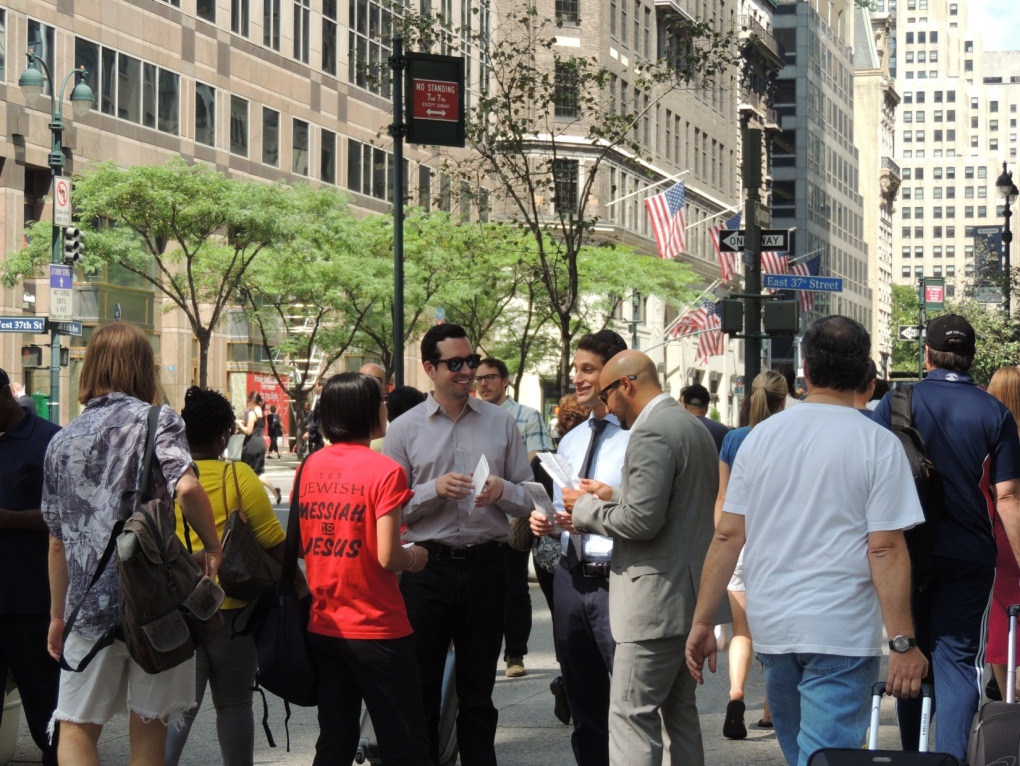 We are having our annual Witnessing Campaign in New York City August 15-23, 2013!
NYC: HOME TO 2,000,000+ Unreached Jewish People
Why Should I Participate?
Because we have a debt to Israel. . . A. W. Tozer wrote: "I am debtor" Romans 1:14. When Paul wrote these words he was not using rhetoric. Master of metaphor he certainly was, and he knew the power of simile and figure of speech, but the whole tone of the context where this testimony occurs shows his meaning to be literal and matter of fact. He honestly felt himself to be in debt, and it burdened him, as debt must always burden an honest man.
The debt he owed was not a private one, but one incurred by every person who accepts Christ. Debt results from receiving benefit from another for which nothing is given in return. Until a full return has been made the recipient is in debt. Under this simple definition the whole Church of Christ and every member in particular is found to be in debt to Israel.
Every time a Christian picks up his Bible he is reminded of his debt to the Jew, for "Unto them were committed the Oracles of God." God chose a receptacle into which He could pour His truth, a medium through which He could communicate His saving knowledge to mankind; that receptacle, that medium was Israel. With all her faults, in spite of all her many sins, she proved true to the trust, and as a result we have today the written Word, the Holy Scriptures, "A lamp unto our feet and a light unto our pathway."
For this great benefit no adequate return has ever been made by the Church. It is an astonishing thing that multitudes of Bible students and lovers of the truth should calmly overlook their obligation to Israel.
We owe a debt of prayer. Paul said, "My heart's desire and prayer to God for Israel is that they might be saved." If he felt that way about them then we should stir ourselves to pray after all these years.
Then we owe them also an unflagging zeal for their salvation. The lukewarmness of the Church toward the evangelization of the Jew is one of the major tragedies of history. We are not responsible for the conduct of those who have lived before us, but we are surely responsible to do all we can in our own generation to pay the debt we owe to Israel.
YOU WILL BE TAUGHT TO:
Understand Jewish people
Share the Gospel
Use Messianic Prophecy
Deal with objections
Win Jewish people to Jesus
YOU WILL UNDERSTAND:
Jewish resistance to the Gospel
Anti-Semitism: Past, Now, Future
Messiah: the Jewish Views
The Art of Passing out tracts
How to share the Gospel from the Tanakh – Old Testament
How to Lead a Jewish Person and others to Yeshua [Jesus]
Israel, The End Times and You
To participate, contact us:
www.awakeoisrael.org
Phone 646-423-2673
E-mail:
awakeoisraeljm@aol.com
Abraham Sandler, Director
Missionary to Jewish People
National Evangelist C&MA
HOSTED BY
MESSIAH'S LIGHTHOUSE CONGREGATION of the C&MA