1






Front Line Ministry to the Jewish People in New York City: Awake O Israel Jewish Ministries
Posted by Abraham Sandler , 17 September 2012 · 2292 views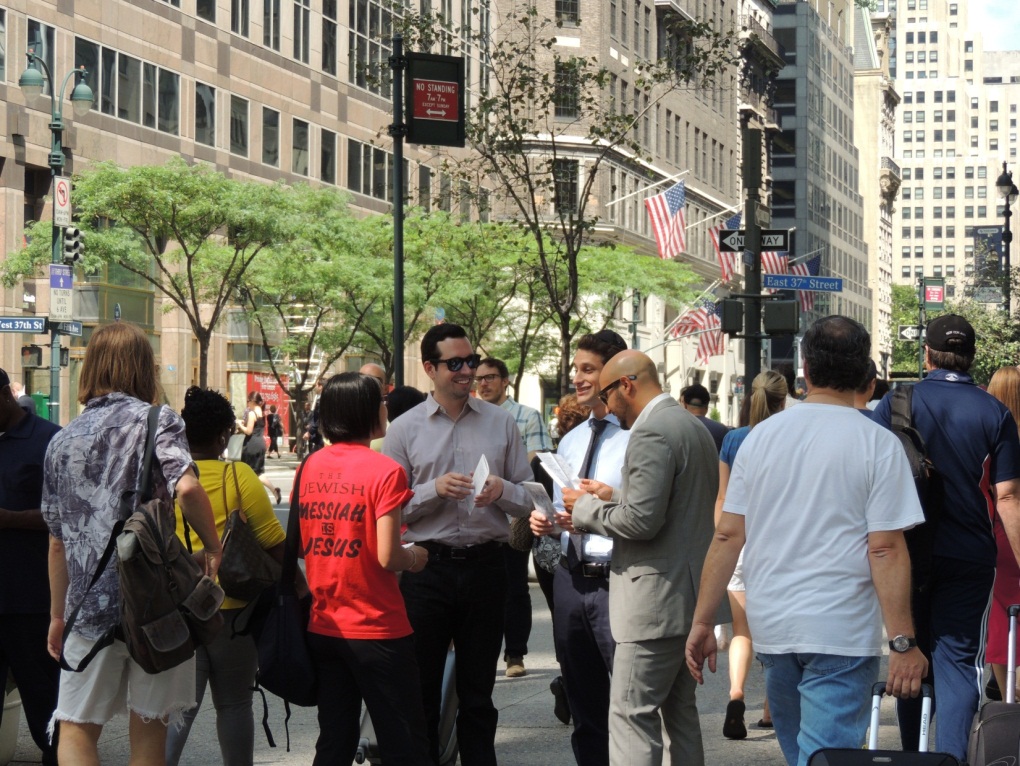 Baruch HaShem! Praise the Lord! God answered many of our/your prayers for our Awake O Israel New York City Witnessing Campaign.
Several weeks before the Campaign we had 7 people committed to the street witnessing team. We had been praying for ten. By the time campaign began we had 15 people on the team. We also had 7 on the inside team packing tract bags, unpacking them repacking them with new tracts. They were also labeling tracts, cooking and serving meals, washing team shirts, running errands, photography and anything else that needed doing.
New York weather in August is usually hot and humid with some rainy days. During our week we not only did not get rained out at any time, but it was not humid and the temperature never got out of the 80's. The team remained strong and healthy and God blessed.
"CAN YOU BE JEWISH AND BELIEVE IN JESUS?"
This was the question on our t-shirts and our banner. As we had hoped, this question created quite a stir and lots of interaction. Some people were angry, some were inquisitive and some were positive. As we stood near the Williamsburg Bridge in lower Manhattan holding our four foot by six foot banner, which included our website, we got plenty of reactions from those driving by in their cars. Just on the other side of the bridge is a large community of Hasidic or very religious Jewish people. Some people honked their horns and gave us a thumbs up, others shouted "yes, you can", and others wearing head coverings, yarmulkes, and had side curls, indicating they were part of the religious community, shook their fingers at us and said and did some very nasty things. One Jewish man was so shocked by our sign that he kept staring at it as he slowly drove off; however, he didn't realize he was turning the wheels of his car in our direction. One of the guys holding our sign almost dropped his end and was about to run when the guy realized what he was doing and then drove off. As a result of the banner and the 20,803 tracts we gave out that week our web site had a spike in those checking us out.
Declaring Jesus in New YORK CITY
Our team was on the streets and in the subways 7-10 hours a day for five days. The team gave out 20,803 tracts and talked to many people. Denise met Gerald an unsaved Jewish man who took a tract and asked a question. She replied, "We can have the best life when we have the Jewish Messiah." Gerald then handed her his card and said "I would like to talk more."
Paul met Shawn and shared the Gospel with him and this Gentile man prayed there in the subway to receive Jesus as his Lord and savior.
Stanley an unsaved Jewish man met one of our Jewish team members and after talking for a while said he thought that Jesus is the Jewish Messiah, but didn't want to give up being Jewish to believe in Him. His fears were calmed when he heard that all the first believers were Jewish and if Jesus is the Jewish Messiah it is the most Jewish thing in the world to believe in Him. He then asked how to take the step of believing and receiving Yeshua, and took some literature which he promised to read.
Albert got our tract at the 59th street subway and transferred to another subway at West 4th St. As he stood on the platform waiting for the subway he was reading the tract. One of our congregation members was also on the platform at West 4th street and saw him reading our tract. They spoke to him and told him they were Jewish and attended our Messianic Jewish congregation and encouraged him to phone us. Albert did phone us and indicated he would like to visit. He was not able to come to our next service, but he sent a seeking Jewish friend.
Pray too for Monica and Joel two more unsaved Jewish contacts that we are also following up. We will continue to follow up the contacts and try to arrange one on one Bible studies with them. Pray that they will be receptive and willing to meet with me.
We also met many Gentile believers who want help in witnessing to their Jewish friends.
Abe did not go out on the streets due to his injuries, but he did train the team and organized the sites and tracts for the team.
"MY PEOPLE ARE NOT
UNREACHABLE, THEY ARE JUST UNREACHED"
©
Have you seen our web site? www.awakeoisrael.org

Try this tool for as you share the Messiah with your unsaved Jewish friends and neighbors.
For God's Glory and Israel's Salvation,
Abe and Janet Sandler
Our mission: "We exist to bring the good news of Messiah Yeshua/Jesus to Jewish people in the United States of America and worldwide, and to make disciples of Jewish believers."