1






Jewish Work in the C&MA - Seattle to NYC to Philly: Feb. 2016 Newsletter
Posted by Abraham Sandler , 17 February 2016 · 1332 views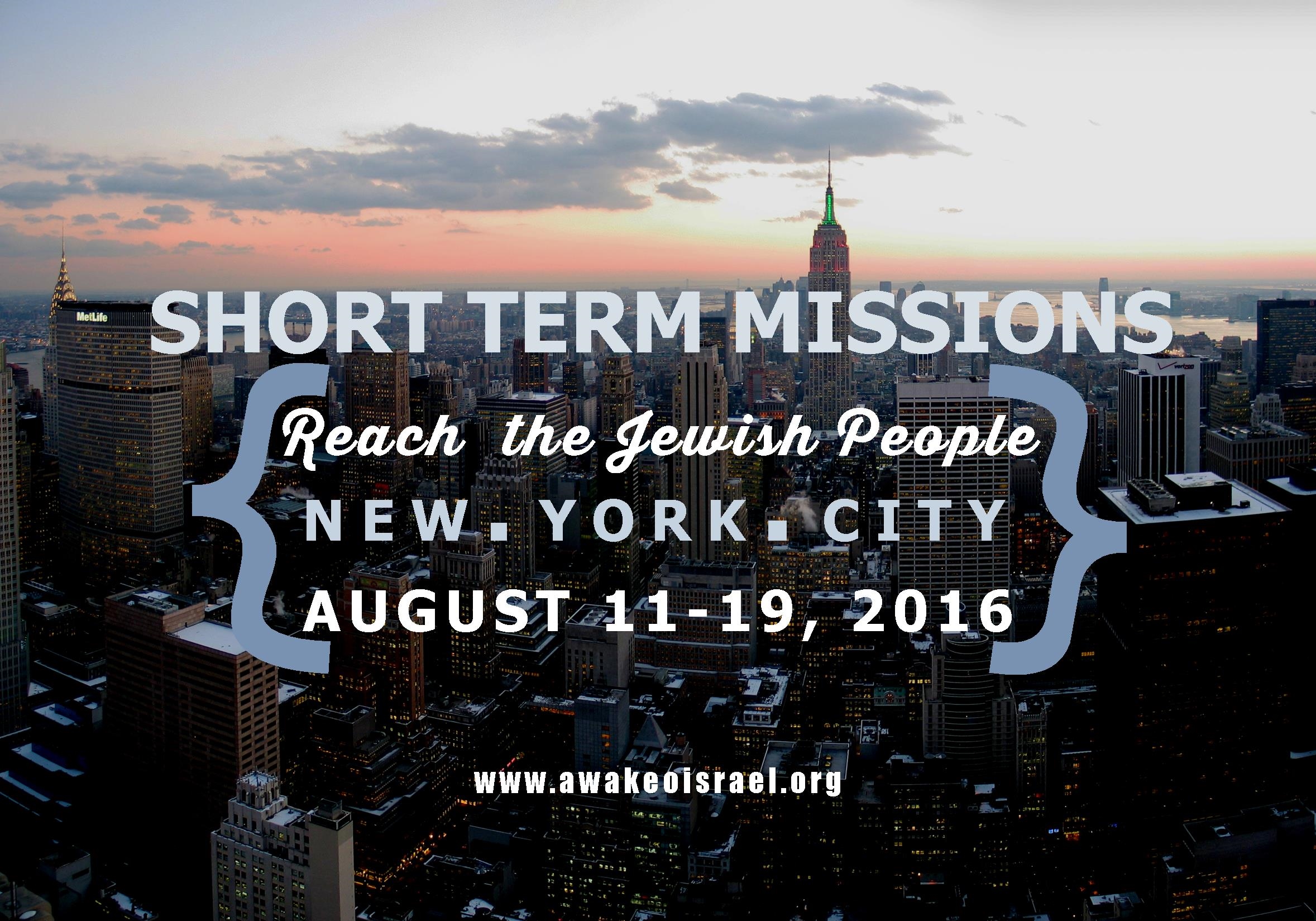 Recently I spoke with Bernie, an unsaved Jewish man who is 90 years of age. He is in good health, and shared with me why he no longer believes in God: his mother suffered much with cancer. Bernie said "Why would God allow my mother to suffer so? I can't believe in a God that would allow such suffering." He feels his conscience is his god and tries to lead a good life. I suggested to him that although we do good things we also do bad things, and that someday we will all die, find out then if there is a God and if we are prepared for eternity. He agreed to get together sometime for further discussion on these thoughts. Please pray that we will be able to get together soon and that the Lord will give me wisdom and words to help Bernie see there is a God and that he needs a Savior and Jesus is the Jewish Messiah and Savior.
Shalom Fellowship, Seattle, WA David and Peggy lead our Seattle Jewish outreach. They have established a monthly Bible study group of 20-25 people. The next meeting is February 13. They have invited an unsaved Jewish lady. Pray she will come and be open to what she hears and is willing to examine the issue of Jesus being the Jewish Messiah.
Pray too for David who has recently had knee replacement surgery on his right knee. He is going through rehab and it is a painful process. Pray for grace, healing and strength and restoration of full ability to use his knees.
Start praying now for our evangelistic outreaches at two fairs in Seattle: May 21-22 University Street fair, and June 18-19 Freemont Fair. There are 150+ booths at each fair, and usually we are the only light in the darkness: 100-150 thousand people come to the two fairs and we will have a booth at each one. The sign on our booth is: "Can you be Jewish and Believe in Jesus?" Many Jewish people come to these fairs and some are angry and say no; others stop and ask questions. Pray for a strong team.
Web Contacts: Ron, an unsaved Jewish man, found our website and wrote to me. He asked some general questions about what we do and what we believe. I responded, and in turn, he responded to me with more questions. I responded again with a presentation of Isaiah 53, which speaks of the suffering Messiah. I also quoted some prominent Rabbis who also agree it is about the Messiah. Ron responded with he didn't accept anything but the Bible and said it was about Israel suffering, which is very poor exegesis. He then sent me a large collection of Jewish writings from the Talmud – Jewish Oral Law believed to have been given to Moses when he received the written Law. At this point I am pretty sure he is a professional "anti-missionary", who is trained to attempt to get Jewish believers to renounce Jesus and return to traditional Judaism. They also want to tie one up and waste time so you cannot spend your time reaching Jewish people with the Gospel. They are very closed minded. Pray that God will open his mind and heart to the Truth. I will respond again. Pray for the leading of the Holy Spirit.
Messiah's Lighthouse Congregation, NYC: An unsaved Jewish man, David, has visited our congregation a few times. On Feb. 12 he stopped by again, and one of our congregants prayed with him to receive Jesus as his Savior! Please pray for David to grow in the Lord and connect with this congregation on a regular basis.
Philadelphia PA area: a coffee house ministry in Willow Grove PA, FRESH GROUND Coffee House, is hosting Avi Wisnia on stage. Avi has toured Poland with his cantor grandfather, David, and in 2015 traced his journey from prisoner in Auschwitz to 101st Airborne trooper. David has written his story in a book that will be available at the coffee house. The coffee house ministry attracts many Jewish people from that area, including Ruth. Ruth is a secular Jew, but interested in spiritual themes as she writes poetry, frequently mentioning Jesus. Please pray for the leading of Holy Spirit for the ministering team as they talk to the guests. There is a table with free literature, such as "A Lawyers Case for God" by Jim Jacobs and several tracts from Awake O Israel. Quite often Jewish people will peruse the literature and quietly put it in pocket or purse. The ministry has a Facebook page: FRESH GROUND Coffee House
NYC Witnessing Campaign: Our annual witnessing campaign in Manhattan is August 11-19, 2016. This is a short-term missions opportunity open to anyone from age 16 and on, with a heart to share the Gospel with Jews and Gentiles in NYC. There are over 3 million Jewish people in this area, and they need to be reached with the Gospel. Would YOU consider partnering with us? The cost is $750, and includes housing, meals, local transportation during ministry days and training. Out of town participants need to arrive on August 10, as training starts early on the 11th. The dorm accommodations are spacious and comfortable, and for married couples there are a few double rooms available. Bring your Youth Group, bring your "seasoned citizens" group, and bring comfortable shoes! For more information, please see our brochure, attached to this email, or contact us through the contact page on the website, phone or email. We'll mail out your application forms right away! We have attached our brochure. For a video about campaign, contact us to access the information in our DropBox!
"Jewish people are not unreachable, they are just unreached."©
For God's Glory and Israel's Salvation,
Abe and Janet
Abe and Janet Sandler
Our mission: We exist to bring the good news of Messiah Yeshua/Jesus to Jewish people in the
United States of America and worldwide, and to make disciples of Jewish believers.
Newsletter and E-mail Prayer Information: We send out our paper newsletter 4 times a year. We also send out a monthly email update: these contain up-to-date information on: campaigns, contacts, congregations and prayer requests. Contact us for JETS at your church, missions presentations, interest in short-term missions for Summer 2016, college visits & more!
"Awake O Israel Jewish Ministries" is a "Not for profit 501©3" ministry that serves the C&MA districts and churches, as well as other denominations, churches, and individuals that request help in reaching Jewish people with the Gospel of our Messiah Jesus.